Issued in news on February 16, 2022 at 13:50:00.
Friends of the Earth is calling on the Government to end constant delays and immediately remove the requirement for schools to have planning permission in order to install solar panels [1]. Today Wednesday 16th of February at 15.30 the Green Party's Solar Panel Bill [2] will be discussed at Committee Stage in the Seanad [3]. This Bill seeks to remove planning restrictions [4] for the installation of solar panels on public buildings, including schools. This follows vague comments by the Taoiseach in the Dáil yesterday that Minister for Housing Darragh O'Brien had assured him that steps will be taken "in the next two or three weeks". Notwithstanding these developments, there remains no clear sign of progress.

Jerry Mac Evilly Head of Policy at Friends of the Earth stated:
"For more than three years now successive Governments have failed to update planning regulations to support solar on schools, despite several commitments. And in the past year the Minister of State for Planning and Local Government and the Department of Housing have repeatedly ignored deadlines without explanation and ignored the Green Party's Seanad Bill .
We have to remember that this is a basic change that enjoys universal public and political support. The repeated changing of messages and timelines makes a mockery of the Government's commitment to improved coordination and accountability on climate action. While the introduction of the Green Party's Seanad Bill seemed like a positive step last summer, we have had no indication over the past 8 months that it has been taken seriously by Government - the opposite in fact.
Issued in the blog on November 05, 2021 at 08:52:00.
The energy of the future must be renewable but it should also be community owned! Our Power to the People campaign is focused on making it possible for communities, schools and grassroots organisations to own, generate, use and sell their own electricity.

Issued in news on September 13, 2021 at 07:32:00.
Significant groundwork achieved but current pace too slow to meet Government's own targets

The Government has been a awarded a C+ in independent expert assessment of progress on the climate and environment commitments in the Programme for Government. The Report Card 2021, commissioned by Friends of the Earth, was carried out by a three person academic panel who marked the Government out of 10 in nine subject areas from climate to water to transport to air quality. The scores ranged from 8.5 for waste and 7.5 for climate to 4.5 for nature and biodiversity and 4 for agriculture and forestry. The panel's overall verdict was that "While significant groundwork has been achieved in a number of areas within the first year, the pace of progress is currently too slow to achieve the Government's targets relating to their environmental and climate commitments."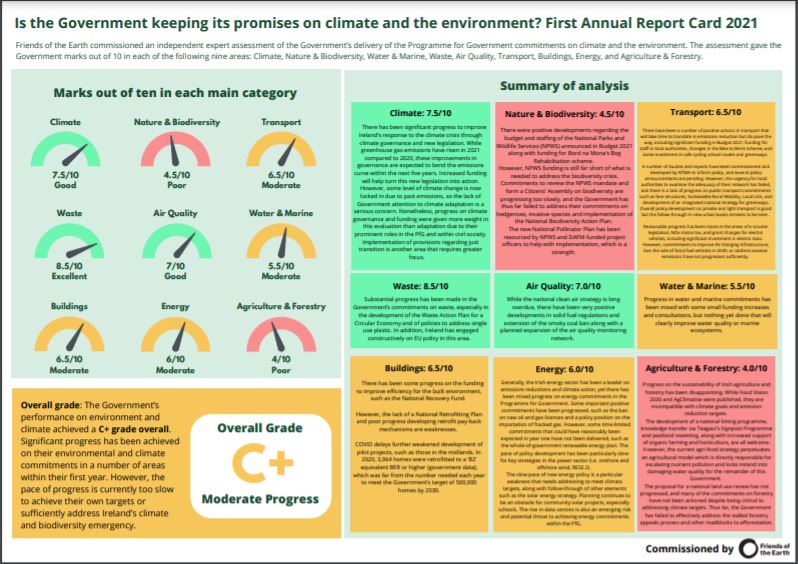 Download the Report Card here.

Chair of the assessment panel, Dr Cara Augustenborg, Environmental Policy Fellow at University College Dublin, said:

"While many of the Government's commitments are not yet visible in our everyday lives, environmental issues have clearly moved up the political agenda in the past year. Significant groundwork has been achieved to turn the Government's environment and climate commitments into action over the next 3-4 years. However, serious concerns remain regarding the Government's progress in addressing the biodiversity crisis, declining water quality, and the role of agriculture and forestry in these areas."

Highlights and lowlights:

The Government scored highly on some high profile subjects, including an 8 on Climate Governance where the panel found the climate law "delivered on the Government's commitments to make provision for the enactment of ambitious 2030 and 2050 emissions targets and 5-year carbon budgets, in addition to enhancing the expertise and diversity of the Climate Change Advisory Council."

In other areas progress was disappointing. On Biodiversity the panel found "Commitments to review the National Parks and Wildlife Service (NPWS) mandate and convene a Citizens' Assembly on biodiversity are progressing too slowly, and the Government has thus far failed to address their commitments on hedgerows, invasive species and implementation of the National Biodiversity Action Plan" and awarded the Government a 4.5.

Meanwhile in agriculture, where policy is frequently controversial and contested, the panel found: "Progress on the sustainability of Irish agriculture and forestry has been disappointing. Food Vision 2030 is incompatible with climate goals and emission reduction targets, perpetuates an agricultural model which is directly responsible for escalating nutrient pollution and locks Ireland into damaging water quality for the remainder of this Government" and awarded their lowest mark, a 4, for "Poor Progress".
Issued in the blog on July 22, 2021 at 16:56:00.
We want everyone to be involved in the renewable energy revolution! The energy of the future must be renewable but it should also be community owned! We believe that communities, schools and grassroots organisations should be supported to own, generate, use and sell their own electricity. Recognising the value that small generators can contribute to our energy transition is hugely important and should allow for income to be spread through communities, like schools, farms, local authorities - and create an incentive for more people and communities to invest in renewables.

Solar Schools
Issued in news on June 28, 2021 at 16:40:00.
Friends of the Earth
For immediate release
Thursday 28th June 2021
Issued in the blog on June 15, 2021 at 17:00:00.
Friends of the Earth invited schools from across Ireland to participate in our online regional Solar School Youth Assemblies to share their visions for a sustainable future in Ireland.
We believe schools can play a vital role in the energy transition! And help ensure that this transition is both fast and fair. This is why it's so important to make sure students have opportunities to learn about what a Just Transition means and to connect with and share their demands with decision makers.
Issued in the blog on May 11, 2021 at 16:34:00.
To address the climate crisis, we need to get off fossil fuels fast. Ireland has excellent renewable energy resources, but our energy system uses fossil fuels for the majority of our energy needs in transport, heating and electricity. This has to change. Fast! 
At Friends of the Earth we are working to make sure that Ireland's energy system is fit for the future, with no more investment in fossil fuel infrastructure, no more exploration for fossil fuels and an energy system that values and supports citizens and communities participating in and benefiting from our renewable energy transition.
Issued in the blog on February 22, 2021 at 17:34:00.
Power to the People is our campaign to achieve the electricity-related key results of the Strategic Objective on emissions reduction, by putting citizens and communities at the heart of the transition to 100% renewable power.
We've made good progress on our campaign to change the planning regulations to allow solar panels on schools. Two weeks ago the Sunday Business Post reported that planning regulations would be changing to facilitate solar panels on buildings, including schools. We're continuing our campaign for legislation to seal the deal on this and make sure it happens. 
Councillors around Ireland have been supporting this too, and both Galway County Council and Westmeath County Council have passed motions recently supporting a change in the planning regulations.
Issued in the blog on March 13, 2020 at 09:36:00.
Voting and judging for Solar Schools 2020 is now complete.  The winners were judged by an independent judging panel following the results of an online public vote. 
Schools were tasked with coming up with an idea for a local climate action project.  And as expected, students in Ireland have fantastic ideas.  The winners will now complete their climate action project, and will get solar pv panels designed and installed at their school. 
We are very grateful for financial support for this project from the following organisations.  It would not be possible without them. 
The winners for Solar Schools 2020 are:
Primary Schools
Winners
Guardian Angels, Blackrock, Co Dublin
St Brigids National School Grange, Co Carlow
Scoil Naomh Brid, Co Donegal
Mercy Moyderwell, Tralees, Co Kerry
Issued in the blog on February 24, 2020 at 22:09:00.
Voting is now live for the Friends of the Earth Solar Schools 2020 competition!!
Our 'For the love of solar' competition is deisgned to help schools all over Ireland to go solar. With thanks to our generous funders, next week we willl be announcing at least 8 schools as winners of solar panels, 4 primary and 4 secondary schools.  But really, we think every school should be a solar school. In fact we think every school, community building, sports club and local authority should go solar, to generate clean renewbale energy right from their rooftops.