The Sick Of Plastic Campaign
The Sick of Plastic campaign formed in early 2018 when Friends of the Earth and VOICE Ireland noticed a surge in the public's frustration with single use plastic. Despite introducing the plastic bag tax back in 2002, we're taking more plastic packaging home (in our reusable shopping bags) than ever!
Sick of Plastic is working to empower communities to pressure industry and decision makers to take action on single use plastic.
Issued in news on September 13, 2021 at 07:32:00.
Significant groundwork achieved but current pace too slow to meet Government's own targets

The Government has been a awarded a C+ in independent expert assessment of progress on the climate and environment commitments in the Programme for Government. The Report Card 2021, commissioned by Friends of the Earth, was carried out by a three person academic panel who marked the Government out of 10 in nine subject areas from climate to water to transport to air quality. The scores ranged from 8.5 for waste and 7.5 for climate to 4.5 for nature and biodiversity and 4 for agriculture and forestry. The panel's overall verdict was that "While significant groundwork has been achieved in a number of areas within the first year, the pace of progress is currently too slow to achieve the Government's targets relating to their environmental and climate commitments."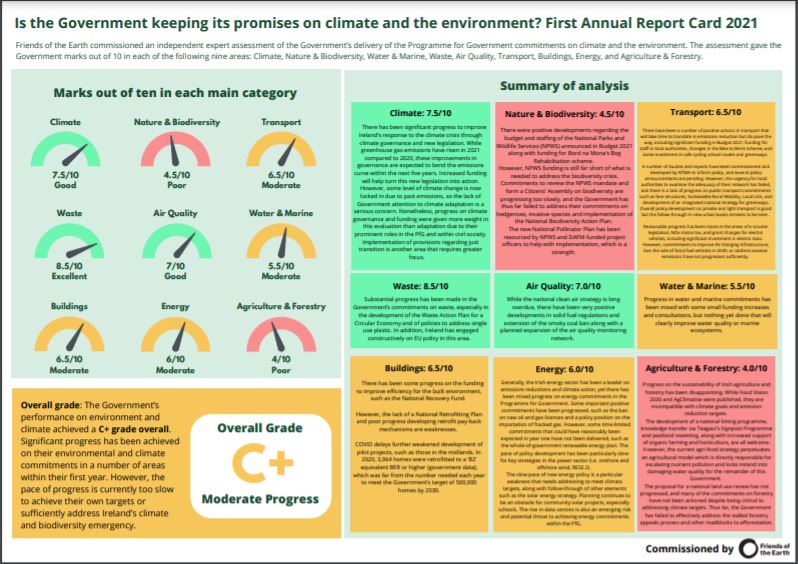 Download the Report Card here.

Chair of the assessment panel, Dr Cara Augustenborg, Environmental Policy Fellow at University College Dublin, said:

"While many of the Government's commitments are not yet visible in our everyday lives, environmental issues have clearly moved up the political agenda in the past year. Significant groundwork has been achieved to turn the Government's environment and climate commitments into action over the next 3-4 years. However, serious concerns remain regarding the Government's progress in addressing the biodiversity crisis, declining water quality, and the role of agriculture and forestry in these areas."

Highlights and lowlights:

The Government scored highly on some high profile subjects, including an 8 on Climate Governance where the panel found the climate law "delivered on the Government's commitments to make provision for the enactment of ambitious 2030 and 2050 emissions targets and 5-year carbon budgets, in addition to enhancing the expertise and diversity of the Climate Change Advisory Council."

In other areas progress was disappointing. On Biodiversity the panel found "Commitments to review the National Parks and Wildlife Service (NPWS) mandate and convene a Citizens' Assembly on biodiversity are progressing too slowly, and the Government has thus far failed to address their commitments on hedgerows, invasive species and implementation of the National Biodiversity Action Plan" and awarded the Government a 4.5.

Meanwhile in agriculture, where policy is frequently controversial and contested, the panel found: "Progress on the sustainability of Irish agriculture and forestry has been disappointing. Food Vision 2030 is incompatible with climate goals and emission reduction targets, perpetuates an agricultural model which is directly responsible for escalating nutrient pollution and locks Ireland into damaging water quality for the remainder of this Government" and awarded their lowest mark, a 4, for "Poor Progress".
Issued in the blog on March 09, 2021 at 11:04:00.
Sick of Plastic is a joint campaign, hosted by Friends of the Earth and VOICE Ireland. We launched our first Sick of Plastic petition in 2018. That petition had a lot of demands that will soon become a reality, thanks to all of your campaigning and support!
Issued in the blog on February 22, 2021 at 17:59:00.
Sick of Plastic is our campaign in partnership with VOICE Ireland. Together, we are working to empower communities to pressure industry and decision makers to take action on single use plastic.
Despite not being able to take direct action through our Supermarket Shop & Drop's due to COVID-19 restrictions, Sick of Plastic has remained as creative as ever in presenting fun and interactive ways for people to take action on single use plastics. There are lots of ways to take action, you can start by taking photos of excessive plastic packaging in your supermarkets and sharing it with Sick of Plastic on social media or via email sickofplasticireland@gmail.com to help build the pressure on supermarkets to act.
Issued in the blog on October 17, 2020 at 20:43:00.
The Sick of Plastic campaign has been working hard supporting communities across Ireland to take action against the excessive use of plastics in our supermarkets.
Sadly, our annual Shop and Drop was cancelled this year – but that didn't stop local Sick of Plastic groups from taking action in their communities.
This summer thousands of people took part in our Postcards to Supermarkets campaign, calling on supermarkets to eliminate unnecessary plastic and support reuse.
Demands to Supermarkets:
Reduce the amount of plastics in store
Offer loose fruit and veg at affordable prices
Offer more produce like loose washing detergent and dry goods
Support reuse by accepting reusable containers
If you didn't get to any of the 40 hubs to sign a physical postcard, there's still time to sign your name digitally here at this link.
Issued in the blog on June 30, 2020 at 13:06:00.
Sick of Plastic had to cancel this year's Shop and Drop - but the action to demand change from supermarkets keeps going!
Shoppers, anti-plastic activists and local Sick of Plastic groups are planning to send their signed Sick of Plastic Postcards to Supermarkets with a personal note asking their local supermarket to make changes and eliminate unnecessary plastic packaging from its produce.
The action is kicking off this week for Plastic Free July! 
You can get started by signing a digital postcard here on the action page.
Physical postcards are available at hubs across the country so you can sign and send in your own postcard, find your nearest hub here on this map.
Issued in news on June 30, 2020 at 12:30:00.
Supermarket shoppers will be sending 'wishing you weren't so wrapped up in plastic!' postcards to Supermarkets this Plastic Free July
To kick start Plastic Free July, a month of action against plastic, Sick of Plastic is launching a Postcard Campaign directed at the 5 big supermarkets in Ireland asking them to up their game in reducing the amount of single use plastics in shops.
Postcards to sign your name and demand action from Supermarkets will be distributed to hubs across the country and supporters can also sign up online at www.voiceireland.org.
Mindy O'Brien, Coordinator of VOICE Ireland, says;
Issued in the blog on June 17, 2020 at 23:19:00.
Through the Break Free From Plastic global network, of which we are members of, we screened the newly released film 'The Story of Plastic' in May with our Sick of Plastic partner VOICE Ireland. To build on the conversation and bring the issue closer to home, we hosted awebinar to discuss the plastic free movement in Ireland.
Issued in the blog on May 18, 2020 at 13:23:00.
If you missed it, don't worry. We're recording all of our webinars so you can watch them in your own time.
Sick of Plastic, our campaign partnered with VOICE Ireland, hosted a webinar on to discuss the new documentary 'The Story of Plastic' and the growing movement in Ireland and worldwide to break free from plastic and fossil fuels.
The Story of Plastic is the story BIG PLASTIC does not want you to see. The film takes a sweeping look at the man-made crisis of plastic pollution, from extraction of fossil fuels to plastic waste replacing fish in our Oceans, and to explore Ireland's role in tackling these issues.
Issued in news on May 11, 2020 at 10:47:00.
Sick of Plastic Campaign
PRESS RELEASE
For Immediate release: Monday May 11th
Environmentalists come together to bridge the gap between plastic and fossil fuels, unveiling plastic industry secrets, through a free two-day online streaming and webinar.
Environmental campaigning groups have been hosting online screenings across the world to bring the full story of plastic to mainstream audiences since the film premiered on the Discovery Channel on Earth Day this year.
On May 12th and 13th the Sick of Plastic Campaign will be streaming the film for free online for the Irish public. And on May 14th the campaign will host a webinar to discuss the film and explore the links between plastic and fossil fuels within both the Global and Irish contexts.
Issued in the blog on May 08, 2020 at 18:52:00.
What has that plastic bottle polluting your local river got to do with gas?!
Well, a lot as it turns out.
Natural gas is primarily composed of methane, a greenhouse gas which, when released, has over 100 times the global warming potential of carbon dioxide. Gas is used as an energy source the world over.
What is less well known is that gas is also used as a material to make plastics. Ethane is a hydrocarbon also present in gas and a primary raw material for petrochemical (or plastics) manufacturing. Global fossil fuel extraction companies are heavily involved in the production of plastics. They use the ethane accessed via fracking to produce plastics that exist for hundreds of years in the environment.