Join the call for Ireland to propose a UN resolution against fracking at the General Assembly this year
Friends of the Earth has joined forces with activists and experts from across the anti-fracking movement [note 1] to call on Ireland to propose a global ban on fracking at the United Nations. We have written a joint letter to Minister for Foreign Affairs Simon Coveney TD to ask for Ireland's support and produced an Explanatory Memorandum which outlines the case for a resolution on a global ban on fracking.
This call follows on from an open letter to the UN Secretary-General in 2019, signed by over 450 grassroots groups, organisations, celebrities and scientists from around the world, which demanded that the UN to champion efforts to stop fracking.
Gas is a harmful fossil fuel. At the very least half of all existing gas reserves need to stay in the ground unburned to keep global heating to less than 2C, more if we are serious about the Paris goal of 1.5C.
Fracked gas is fossil gas that has been extracted by an extremely damaging and polluting extractive process known as hydraulic fracturing, or 'fracking'. The harmful effects of fracking have been especially felt by communities in the US and include hugely detrimental impacts on public health and safety, as well as on ecological systems and the environment.
Fracking is also driving the climate crisis with US fracked gas thought to be responsible for the recent spike in global methane emissions (an extremely potent greenhouse gas). The Irish Centre for Human Rights in NUI Galway has also undertaken research on the international human rights implications of fracked gas which highlights that fracking has wide-ranging adverse impacts on many human rights (see here).
Ireland is uniquely well-positioned to lead the effort against fracked gas. Ireland already has a strong legislative ban on fracking in Ireland and within weeks will publish a policy against fracked gas imports. The state has also introduced legislation to make the state investment fund pull its money out of fossil fuel.
Sign the petition asking the Irish Government to table a UN resolution at the United Nations calling for a global ban on fracking.
Note 1
The orignators of the call include Belcoo Frack Free, Fridays for Future Ireland, Future Proof Clare, the Irish Centre for Human Rights NUI Galway, Love Leitrim, Safety Before LNG, Sr Majella McCarron OLA.
Please change the planning exemptions so that schools and community buildings can install solar panels, without the added expense of seeking planning permission. You are now 14 months delayed in introducing this simple change to the planning regulations, and it is having a stalling effect on all school and community solar installations.
We love Solar Power! It's clean, free and zero carbon, but in Ireland we have hardly any of it.
And the reason why has nothing to do with how much sun we get! It's because Ireland has unique rules that are designed to make installing solar panels REALLY hard. It is particularly hard for schools.
One of these rules is planning permission.  Schools need planning permission to install even one solar panel.  It's madness, and adds significant cost. 
For years politicians have promised to change this.  They even leaked a story to the papers in August 2020, that they had done it! But they haven't. 
Today, the change is in the hands of Minister Peter Burke. 
Please email your TD's today, and ask them to put pressues on Minister Burke and the Department of Housing, Local Government and Heritage,   and ask him to make good on the promise of many before him, for the Love of Solar. 
We want to see a robust Government policy statement on Liquefied Natural Gas
On April 28th 2020 both Leo Varadkar and Micheal Martin signed a statement saying "Both of our parties accept that as we move towards carbon neutrality, it does not make sense to build new large scale fossil fuel infrastructure such as liquefied natural gas import terminals"

Following this the Programme for Government was agreed, which committed to developing a policy statement to prevent the importation of fracked gas.

But the Government has done nothing to make good on this promise, and the threat is growing every day that the fossil fuel industry will start to build liquified natural gas terminals in Ireland. There are now potentially 5 terminals in the making, and plans to turn Ireland into the gateway location for the transportation of fossil gas though Ireland into the UK and Europe. As a country we were groundbreaking in establishing a ban on fracking in 2017, so to import fracked gas from abroad is tantamount to offshoring the injustice that communities subjected to fracking face. It would also add fuel to the climate crisis.
​​
Email your Government TD's and Senators today and tell them to Act Now to prevent LNG terminals - floating or fixed - in Ireland. 
​​
​​
Issued in news on September 15, 2021 at 15:54:00.
An Bord Pleanála designated Shannon LNG as "strategic infrastructure" a week after new Government Policy Statement introduced a moratorium on LNG development
An Bord Pleanála designated Shannon LNG as "strategic infrastructure" a week after new Government Policy Statement introduced a moratorium on LNG development
Issued in news on September 13, 2021 at 07:32:00.
Significant groundwork achieved but current pace too slow to meet Government's own targets

The Government has been a awarded a C+ in independent expert assessment of progress on the climate and environment commitments in the Programme for Government. The Report Card 2021, commissioned by Friends of the Earth, was carried out by a three person academic panel who marked the Government out of 10 in nine subject areas from climate to water to transport to air quality. The scores ranged from 8.5 for waste and 7.5 for climate to 4.5 for nature and biodiversity and 4 for agriculture and forestry. The panel's overall verdict was that "While significant groundwork has been achieved in a number of areas within the first year, the pace of progress is currently too slow to achieve the Government's targets relating to their environmental and climate commitments."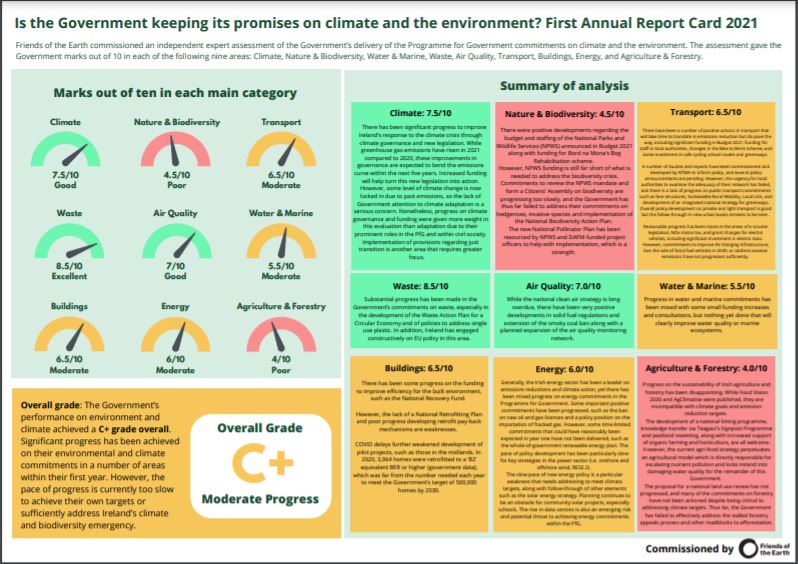 Download the Report Card here.

Chair of the assessment panel, Dr Cara Augustenborg, Environmental Policy Fellow at University College Dublin, said:

"While many of the Government's commitments are not yet visible in our everyday lives, environmental issues have clearly moved up the political agenda in the past year. Significant groundwork has been achieved to turn the Government's environment and climate commitments into action over the next 3-4 years. However, serious concerns remain regarding the Government's progress in addressing the biodiversity crisis, declining water quality, and the role of agriculture and forestry in these areas."

Highlights and lowlights:

The Government scored highly on some high profile subjects, including an 8 on Climate Governance where the panel found the climate law "delivered on the Government's commitments to make provision for the enactment of ambitious 2030 and 2050 emissions targets and 5-year carbon budgets, in addition to enhancing the expertise and diversity of the Climate Change Advisory Council."

In other areas progress was disappointing. On Biodiversity the panel found "Commitments to review the National Parks and Wildlife Service (NPWS) mandate and convene a Citizens' Assembly on biodiversity are progressing too slowly, and the Government has thus far failed to address their commitments on hedgerows, invasive species and implementation of the National Biodiversity Action Plan" and awarded the Government a 4.5.

Meanwhile in agriculture, where policy is frequently controversial and contested, the panel found: "Progress on the sustainability of Irish agriculture and forestry has been disappointing. Food Vision 2030 is incompatible with climate goals and emission reduction targets, perpetuates an agricultural model which is directly responsible for escalating nutrient pollution and locks Ireland into damaging water quality for the remainder of this Government" and awarded their lowest mark, a 4, for "Poor Progress".
Issued in the blog on July 22, 2021 at 17:06:00.
No New Gas is our campaign to prevent fossil gas lock-in. Its primary focus is on fracked gas, Liquefied Natural Gas (LNG) infrastructure and new exploration licenses for oil and gas in Irish waters.
End New Exploration Licences
We've been calling on the Government to honour their Programme for Government promise to introduce a ban on the issuing of new oil and gas licenses off the Irish coast.
Issued in the blog on July 22, 2021 at 16:56:00.
We want everyone to be involved in the renewable energy revolution! The energy of the future must be renewable but it should also be community owned! We believe that communities, schools and grassroots organisations should be supported to own, generate, use and sell their own electricity. Recognising the value that small generators can contribute to our energy transition is hugely important and should allow for income to be spread through communities, like schools, farms, local authorities - and create an incentive for more people and communities to invest in renewables.

Solar Schools
Issued in news on June 28, 2021 at 16:40:00.
Friends of the Earth
For immediate release
Thursday 28th June 2021
Issued in news on May 26, 2021 at 16:07:00.
Friends of the Earth Netherlands wins climate case against Shell 
Responding to the news, Friends of the Earth Ireland made the following comments:

Emma-Jayne Geraghty, Education and Training Coordinator with Friends of the Earth Ireland said:

"This ruling signals the end for Big Oil and Gas. Fossil fuel companies like Shell have a unique responsibility for the climate crisis. Their continued drilling for gas and oil is totally incompatible with maintaining a planet that is safe for life. Not only that, but Shell's promotion of false climate solutions is a dangerous distraction from the real climate action we need. Because behind its talk about supporting the Paris Agreement, we know that Shell has been doing the very opposite - fuelling climate chaos."
Issued in news on May 18, 2021 at 18:03:00.
Friends of the Earth today [18th May] welcomes the publication of a Government Policy Statement on the Importation of Fracked Gas, including a moratorium on the development of LNG import terminals pending the completion of an energy security review. The policy statement stems from a commitment in the Programme for Government, and confirms that the Government does not support the importation of fracked gas [1].
Commenting on the statement, Jerry Mac Evilly, Head of Policy at Friends of the Earth said:
Issued in the blog on May 11, 2021 at 16:34:00.
To address the climate crisis, we need to get off fossil fuels fast. Ireland has excellent renewable energy resources, but our energy system uses fossil fuels for the majority of our energy needs in transport, heating and electricity. This has to change. Fast! 
At Friends of the Earth we are working to make sure that Ireland's energy system is fit for the future, with no more investment in fossil fuel infrastructure, no more exploration for fossil fuels and an energy system that values and supports citizens and communities participating in and benefiting from our renewable energy transition.
Issued in the blog on March 22, 2021 at 08:32:00.
Media reports indicate that the Government's revised Climate Bill will go to Cabinet for approval and publication on Tuesday. The Bill is a flagship commitment in the Programme for Government.

Climate legislation is about governance - about how we make climate policy and how we make sure policy is implemented. It is the framework to drive action rather than being a list of actions. Key elements include:
a long-term (2050) target
short-term (5 year) targets
a duty on Government to produce an action plan to actually cut polluting emissions in line with the targets
an expert council to provide independent advice to the Government and monitor progress
robust parliamentary oversight and ministerial accountability
Issued in the blog on March 01, 2021 at 18:53:00.
Friends of the Earth is working to prevent lock-in of fossil fuels in Ireland and our primary focus is on fracked gas and LNG infrastructure. There are currently 5 proposed LNG terminals in Ireland, with plans to turn Ireland into the gateway location to transport more fossil gas though Ireland into the UK.