Issued in the blog on September 22, 2021 at 18:15:00.
The COP26 UN Climate Talks are set to take place in Glasgow this November. Decisions made at these talks will have significant impacts on global climate action - or inaction - in the years and decades to come. But right now, many of the people who will be most impacted by these decisions are essentially locked out of the talks.
Issued in the blog on September 17, 2021 at 16:38:00.
All Day Youth Workshop: Online via Zoom
When: 25th of September Time: 10 - 4pm
To register click here
Friends of the Earth is partnering with the National Youth Council of Ireland for a youth workshop on the COP26 International Climate Talks. We're inviting young people and youth workers to join us on 25th September. During the workshop, we will be hear from young campaigners and activists and explore how issues that affect them will be discussed and negotiated at international level through the United Nations Climate talks.
Issued in the blog on September 13, 2021 at 08:25:00.
Friends of the Earth commissioned an independent expert assessment of the Government's delivery of the Programme for Government (PfG) commitments on climate and the environment. 
A PDF outlining the results of this assessment, with associated infographics, can be download by clicking here. 
The assessment gave the Government marks out of 10 in each of the following nine categories: Climate, Nature & Biodiversity, Transport, Waste, Air Quality, Water & Marine, Buildings, Energy, and Agriculture & Forestry. The infographic below outlines how the Government did in each of these categories, over the last year.  
Issued in news on September 13, 2021 at 07:32:00.
Significant groundwork achieved but current pace too slow to meet Government's own targets

The Government has been a awarded a C+ in independent expert assessment of progress on the climate and environment commitments in the Programme for Government. The Report Card 2021, commissioned by Friends of the Earth, was carried out by a three person academic panel who marked the Government out of 10 in nine subject areas from climate to water to transport to air quality. The scores ranged from 8.5 for waste and 7.5 for climate to 4.5 for nature and biodiversity and 4 for agriculture and forestry. The panel's overall verdict was that "While significant groundwork has been achieved in a number of areas within the first year, the pace of progress is currently too slow to achieve the Government's targets relating to their environmental and climate commitments."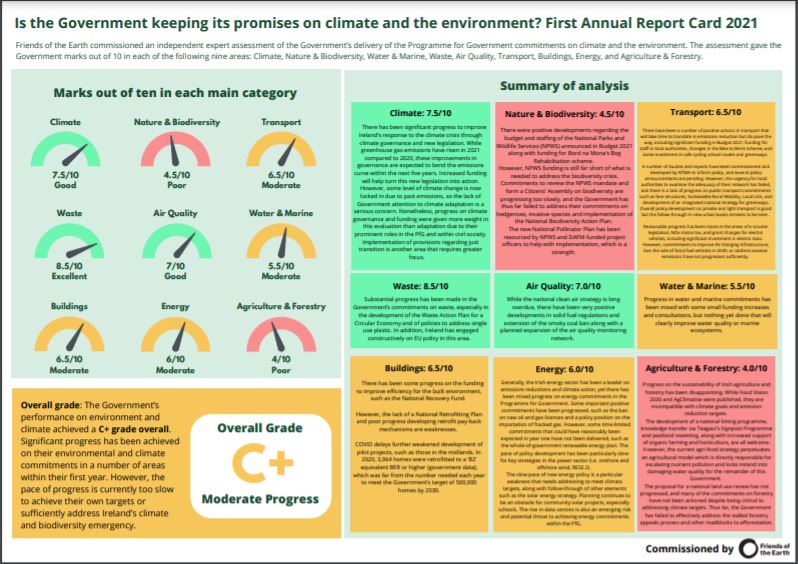 Download the Report Card here.

Chair of the assessment panel, Dr Cara Augustenborg, Environmental Policy Fellow at University College Dublin, said:

"While many of the Government's commitments are not yet visible in our everyday lives, environmental issues have clearly moved up the political agenda in the past year. Significant groundwork has been achieved to turn the Government's environment and climate commitments into action over the next 3-4 years. However, serious concerns remain regarding the Government's progress in addressing the biodiversity crisis, declining water quality, and the role of agriculture and forestry in these areas."

Highlights and lowlights:

The Government scored highly on some high profile subjects, including an 8 on Climate Governance where the panel found the climate law "delivered on the Government's commitments to make provision for the enactment of ambitious 2030 and 2050 emissions targets and 5-year carbon budgets, in addition to enhancing the expertise and diversity of the Climate Change Advisory Council."

In other areas progress was disappointing. On Biodiversity the panel found "Commitments to review the National Parks and Wildlife Service (NPWS) mandate and convene a Citizens' Assembly on biodiversity are progressing too slowly, and the Government has thus far failed to address their commitments on hedgerows, invasive species and implementation of the National Biodiversity Action Plan" and awarded the Government a 4.5.

Meanwhile in agriculture, where policy is frequently controversial and contested, the panel found: "Progress on the sustainability of Irish agriculture and forestry has been disappointing. Food Vision 2030 is incompatible with climate goals and emission reduction targets, perpetuates an agricultural model which is directly responsible for escalating nutrient pollution and locks Ireland into damaging water quality for the remainder of this Government" and awarded their lowest mark, a 4, for "Poor Progress".
Issued in the blog on August 18, 2021 at 17:31:00.
The IPCC's startling report on the climate crisis has left many of us reeling. Its publication this summer was a real wake up call, motivating people to get involved in climate action, some for the first time.

But it has also left people feeling anxious.

There's no doubt about it, the growing social and ecological crises can make us feel overwhelmed. We may feel apathetic - or unable to engage in taking action.
At Friends of the Earth, we want to address these issues and feelings. So we've invited Undercurrent Education to facilitate an Active Hope workshop for our next Learning Hub event at 6pm on Monday 20th September. We'll explore themes of resilience & active hope emerging from Rebecca Solnit's book 'Hope in the Dark'.
Issued in the blog on August 10, 2021 at 12:31:00.
Last month, we organised a Just Recovery conference on behalf of Coalition 2030, who were keen to explore how the Sustainable Development Goals could be used to guide Ireland's recovery from the pandemic.
We were joined by some excellent speakers, including Dr Mike Ryan from the World Health Organisation, Asad Rehman from War on Want and Paola Simonetti from the International Trade Union Confederation.
Missed the conference? Don't worry - we recorded it for you to watch back at your leisure! You can watch it by clicking here or by viewing it in the screen below. 
The Just Recovery conference highlighted the need to join up our struggles for climate action, social justice, global justice and health justice.
Issued in the blog on August 09, 2021 at 18:11:00.
Friends of the Earth is hiring!
We're recruiting a Climate Policy Coordinator and a Network Development Coordinator.
One of these jobs could be the perfect role for you - or for someone you know!
Our Climate Policy Coordinator will lead our climate policy analysis and advocacy and act as Policy Coordinator for the Stop Climate Chaos Coalition.They will drive our policy development and advocacy work in support of "faster and fairer climate action".
Issued in news on August 09, 2021 at 09:53:00.
Friends of the Earth has described today's IPCC assessment report on climate change as a "final wake up call" to governments and citizens to treat climate breakdown as the over-riding global emergency it is.
Commenting, Friends of the Earth Director, Oisín Coghlan said:
"This is a final wake up call from the world's climate scientists. Climate breakdown is accelerating. There is still a narrow path to avoid complete catastrophe but we are not on it and the window of opportunity to get onto it is closing fast.
Issued in news on August 03, 2021 at 13:42:00.
Friends of the Earth
For immediate release
Tuesday 3rd August 2021
Food Vision 2030 is short-sighted say campaigners

In response to Food Vision 2030 published today, Friends of the Earth Director, Oisín Coghlan, commented:

"This industry-led plan for agriculture is not aligned with our international obligations on climate pollution, biodiversity and water quality. It is however just that, an industry plan noted by Government. And I welcome the fact that it explicitly acknowledges that final targets for reducing agricultural pollution will be set under the new climate law. I look forward to agriculture doing its fair share as the Oireachtas sets Ireland's first carbon budget in the Autumn and the Government sets challenging 5-years targets for every sector."

ENDS
Issued in the blog on July 22, 2021 at 17:23:00.
The One Future local climate action groups that we support are going from strength to strength! If you would like to get involved by joining a local group in your area you can sign up here.
We have just finished our One Future Summer Series - a series of action focused online workshops and meetings enabling connection, learning and exploration of ways to take action on climate change at a local and national level. The series consisted of a number of different events.