Do you want to help Friends of the Earth blossom at Bloom?
Posted by Guest Blogger on May 17, 2017 at 11:35 AM
Friends of the Earth is looking for volunteers to help educate visitors at Bloom in the Park in Phoenix Park, Dublin from June 1-5 . We'll be presenting our postcard garden ' The Bright Side of Life' to Bloom visitors and
educating them about the need to create chemical-free food, shelter and nesting spots for beneficial insects in their gardens.
Volunteers will engage festival-goers from our show garden, explaining the concept behind the installation and offering gardening tips along with encouraging visitors to get involved with Friends of the Earth's work. You'll receive training from our garden designer, RTE SuperGarden finalist and permaculture specialist, Suzie Cahn, and our Chairperson Dr. Cara Augustenborg. In addition, you'll get free admission into Bloom for the day in exchange for volunteering approximately 4 hours at the garden.
So if you're a nature lover who wants to help us spread the love, please complete this short form by Monday, May 22 nd and let us know the dates and times you are available to volunteer. There are three shifts to choose from each day June 1-5 ( Morning: 8:30-12:00; Mid-day: 11:45-15:00; and Afternoon: 14:45-18:30 ). If you are available for more than one shift or more than one day, please tick more than one box!
Read more about our plans at Bloom on GreenNews.ie .
We look forward to seeing you at Bloom in the Park!
  P.S. We still need your support to build our 'Bright Side of Life' garden at Bloom. Click here to donate any amount of money toward its construction and be in for a chance to win two free tickets  to Bloom in the Park, June 1-5 at Phoenix Park.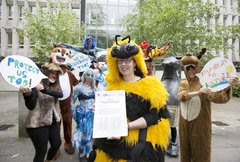 Permanent link | Categories: biodiversity • foodandfarming